Pentax has announced the latest lens addition recently, the first D FA Limited lens in the lineup, smc Pentax-D FA 21mm F2.4 ED Limited DC WR. All good and well, much-needed addition, potentially exactly the lens Pentaxians worldwide were waiting for.
It's a wide-angle prime, of reasonably compact size, reasonably fast aperture to keep the size down, slotted below smc Pentax-D FA 24–70mm F2.8 zoom, in the range of smc Pentax-D FA 15-30mm F2.8 zoom. According to the Limited series badge, and according to the press photos, it looks like a beautifully made lens, the lens you'd like with your existing FA Limited collection.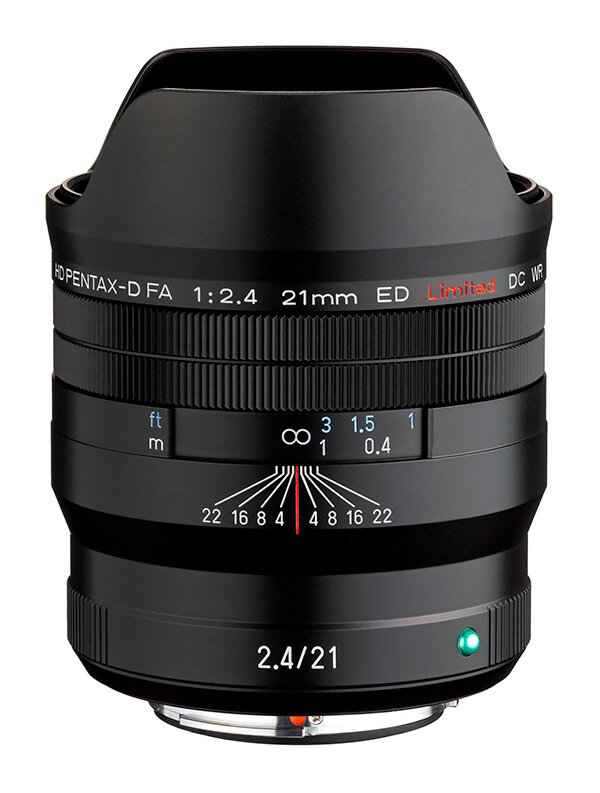 Optically, this lens is designed not to be the sharpest lens out there, at least at a wide-open aperture. According to the microsite dedicated to the lens and a press release, the lens was specifically designed "to reach a level of imaging performance that can't be measured simply in numerical values" and "this lens was developed to provide a distinctive visual expression", there's even an image of development unit with cams for controlling aberrations. In this day and age, when sharpness across the frame is king and fully corrected lenses are expected, building a lens with decidedly non-ideal characteristics is brave, at least. Lens "flaws" like that can be described and justified as a lens with a "character", and Pentax is doing exactly that, that's why this lens is a Limited-series lens, not a D FA★ series lens. Hopefully, lens tests will clear this confusion up, sooner or later.
That "distinctive visual expression", or "character", is a design compromise not everyone is willing to accept, though! If you're a Pentax K-1 owner and need as sharp a lens as possible, at those ultra-wide angles and fast aperture, there's a solution for that compromise – smc Pentax-D FA 15-30mm F2.8 zoom. It's wide, it's fast, it's very sharp. D FA 21mm simply isn't the lens for those needs, and the need is well covered with other lense(s).
So, basically, all is good, then? For the majority of the users out there, yes, all is good – it's a good focal length, slightly faster than ƒ/2.8, it is a relatively compact lens, with a good performance, and stunningly good looks. Some might not be happy with "just" ƒ/2.4 aperture, and I tend to agree, ƒ/2 could have probably been possible without gaining too much in size and weight (and price), but ƒ/2.4 is a good compromise between size/price and aperture size.
On the other hand, I see how it could have been a better lens. It's a KAF4 mount lens, meaning the aperture is controlled electromagnetically, so the aperture won't work on any film camera, on any Pentax DSLR older than K-3 and K-50. It won't work on any adapters, as well, even those with built-in aperture rings.
KAF4 is a natural evolution of a Pentax K mount, but my opinion is, that it has arrived at the wrong time – most of the manufacturers are again producing lenses with aperture rings, this time electronically controlled, decoupled, for mirrorless mounts. Pentax is stuck firmly in the DSLR era, with an immense heritage and coveted compatibility, and in my opinion, introducing a Limited lens of such a useful ultra-wide angle with no compatibility with older cameras is suboptimal, at least. Sure, all DSLRs Pentax made after 2014. are compatible, with a firmware update for some, so it's not a big deal leaving now seriously old DSLR in the cold, but an electromagnetically controlled aperture means no adapters will work. There is a possibility someone will make a KAF4-compatible adapter but with such a low number of interesting lenses that use that mount variant, it's not given it'll be anytime soon, if ever. Leaving adapters out means hybrid DSLR/mirrorless, video/stills and cross-brand customers won't put this lens highly on the priority list, further reducing or slowing Pentax sales.
I'm not trying to say KAF4 is not a viable mount variation, it is a natural progression, but it probably might have been smarter to leave it for high-performance oriented ★ lenses and for compact DA lenses and keep Limiteds as they were, with traditional mechanical aperture mechanism. The aperture ring on the lens barrel would be helpful, as well. Film users would be happy with a mechanical aperture linkage, the 21mm beauty of a lens would be good even on the MX, LX, or more modern flagship, the MZ-S.
To sum this all up, this D FA 21mm F2.4 Limited lens is a valuable addition to the system. It is not the best choice for every use case, and it is not a lens for adapting and film users – the aperture is stuck wide-open in both cases.
---
---
Specifications
| | |
| --- | --- |
| Mount | Pentax K, KAF4 variant |
| Image circle | 35mm full-frame (135 format) |
| Focal length | 21mm |
| Maximum aperture | F2.4 |
| Minimum aperture | F22 |
| Number of aperture blades | 8, curved |
| Optical construction | 11 elements in 8 groups, 4 ED, 1 Super ED |
| Minimum focus | 18cm |
| Filter thread | 67mm |
| Weight | 416g |
| Diameter | 74mm |
| Length | 89mm |
| Autofocus | Yes |
| Image stabilization | No |
| Weather sealing | Yes |
---
Last update: 27. 7. 2022.